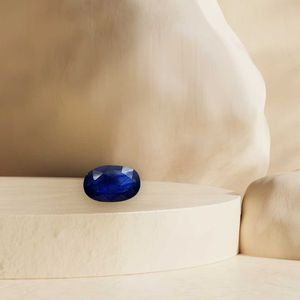 5 ratti Blue Sapphire (Neelam)
Represents Mental Focus | Inner Vision | Psychic Awareness | Deep Spirituality | Devotion
What are its Benefits?
The Neelam stone improves meditation, helps in introspection, and self-realization. Therefore blue sapphire is a good companion in the spiritual journey of people. The Blue Sapphire/Neelam stone balances the Crown chakra thereby resulting in the balance of the cosmic energies.
Can I get this gemstone with ring/pendant?
Yes, you can choose among silver ring/pendant, Copper ring/pendant etc. as per your requirement. Please note that we always provide you adjustable ring to avoid inconvenience about ring size. Also, Pendant doesn't include chain.
How are these energized and how can you wear it?
Burn five incense sticks and round them around the stone, five time, chanting the following mantra. "Om Shan Shanishcharay Namah" As your recite the mantra, slid the ring adorning the beautiful Neelam stone in your middle finger.
How natural and authentic is this gemstone?
Customer satisfaction is something we take pride in and with more than 10,000 happy customers, we can assure you that we provide 100 percent Genuine, Authentic and lab certified gemstones.
What is the return policy and Estimated delivery duration?
You will get a 10 days Return and Replacement Policy starting from the day the product reaches your doorstep. This product required 2 to 3 days energization by the astrologer before shipping. Once shipped it will reach in 5 to 7 days.
ASTROTALK PROMISES
AstroMall is a one - stop shop for all your astrological needs.Apart from providing you the most genuine and lab - certified products(like Gemstones, Kavach, Yantras, etc.), AstroMall also assures excellence in providing services like Reiki healing, Past life regression, Consultation, etc.All these products and services on AstroMall comes with the promise of genuineness and are attuned and energised to your personal needs.If you have any queries about any of our products or services, you can simply reach out to our customer care executives.