Navratri is a significant Hindu festival celebrated with great fervor and devotion throughout India. It spans nine nights and is dedicated to the worship of the Goddess Durga in her various forms. Each day holds unique significance, and on Navratri Day 2, we celebrate Maa Brahmacharini. In this article, we will explore the date, tithi, color, significance of Maa Brahmacharini, puja vidhi, and more for Navratri 2023.
Date of Navratri 2023

Navratri, a celebration of the divine feminine, begins on Dwitiya, the second day of the Hindu lunar calendar. In 2023, Navratri commences on Monday, 16th October. It marks the start of a vibrant nine-night festival that symbolizes the triumph of good over evil.
Also Read: Navratri Day 1: Maa Shailputri Puja, Date, Tithi, Colour
The Significance of Maa Brahmacharini

Maa Brahmacharini, the second form of Goddess Durga, is worshipped on Navratri Day 2. She is often depicted as a divine ascetic with a rosary and Kamandalu (water pot). The name 'Brahmacharini' symbolizes the pursuit of divine knowledge and celibacy. Devotees seek her blessings to attain wisdom and spirituality.
Maa Brahmacharini's divine aura is said to illuminate the universe. Her grace helps her devotees to overcome ignorance, delusion, and the darkness of their lives. This form of the Goddess also represents the commitment and penance that is essential for spiritual growth.
The Color of Navratri Day 2: White

White is the color associated with the second day of Navratri. It represents purity, peace, and devotion. Devotees traditionally wear white attire and offer white flowers to Maa Brahmacharini. The color white signifies the seeker's purity of heart and a sincere longing for spiritual awakening.
Puja Samagri (Items required for the Puja)

To perform a proper puja to Maa Brahmacharini, you will need the following puja samagri:
Idol or Image of Maa Brahmacharini: You can use a clay idol, a picture, or a representation of the Goddess.
Fresh White Flowers: As white is the color of the day, offering white flowers is essential.
Incense Sticks (Agarbatti): To create a pleasant atmosphere during the puja.
Diya (Oil Lamp): For lighting and spreading positivity.
Sandalwood Paste and Kumkum: For applying tilak on the Goddess.
Coconut: To symbolize purity and prosperity.
Fruits and Sweets: As an offering to the Goddess.
White Cloth: To decorate the idol or image.
Akshat (rice grains): Symbolizing good fortune.
Aarti Thali: A plate for performing the aarti (a ritual with a lamp).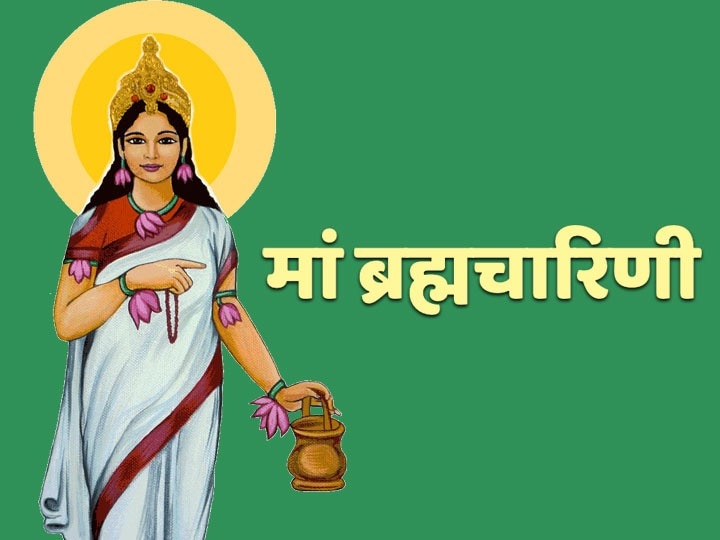 Puja Vidhi (Procedure for Worship)

Performing the puja with devotion and sincerity is of utmost importance. Here's a simple puja vidhi for Maa Brahmacharini:
Begin by cleaning the area where you will perform the puja.
Place the idol or image of Maa Brahmacharini on a clean white cloth.
Light the diya and incense sticks to create a serene atmosphere.
Offer sandalwood paste, kumkum, and white flowers to the Goddess.
Apply a tilak on the idol.
Offer coconut, fruits, and sweets to Maa Brahmacharini.
Recite prayers and mantras dedicated to her. Chant the Maa Brahmacharini mantra for invoking her blessings.
Perform aarti by moving the lamp in a circular motion in front of the Goddess.
Conclude the puja by seeking her blessings for wisdom, spirituality, and a pure heart.
Bhog (Food Offering)

As part of the puja, you can prepare a bhog or food offering for Maa Brahmacharini. Some common items for the bhog include:
Kheer: A rice pudding made with milk and sugar.
Puri and Sabzi: Deep-fried bread and a vegetable curry.
Fruit Salad: A mix of fresh fruits.
Coconut Ladoo: A sweet made from coconut and condensed milk.
Offer these dishes with devotion, and it is believed that Maa Brahmacharini blesses the food, making it prasad, which is then distributed to the devotees.
Also Read: Navami: The Auspicious Day of Maha Navratri
In Conclusion
Navratri Day 2, dedicated to Maa Brahmacharini, holds immense spiritual significance. Devotees seek her blessings to gain wisdom, knowledge, and spiritual growth. The color white represents purity and devotion on this day, and the puja involves specific samagri and rituals.
By following the puja vidhi and offering bhog, devotees express their reverence for the Goddess and invite her divine grace into their lives. As you celebrate Navratri 2023, may Maa Brahmacharini's blessings guide you on the path of wisdom and enlightenment.
Happy Navratri!
Hello! Thank you so much for your incredible support! I'm Tania Bhardwaj, the content writer at Astrotalk. Your love keeps me motivated to write more.Click here to explore more about your life with our premium astrologers and start an amazing journey!
For interesting astrology videos, follow us on Instagram
2,088